Last Wednesday the creme de la creme of the beauty media headed to the Johnson and Johnson Skincare Journalism Awards 2017. It's always an exciting night – after working in the industry for a while you get to know other writers well, so it's always great to see everyone's names in lights and to see editorial talent being recognised.
After being shortlisted three times before, for two of which I was awarded runner-up, I was absolutely thrilled to hear that I had won this year in the category of Best Online Beauty Journalist. Our editor, Susannah Taylor, was one of the panel judges and happened to be the one to present the award, making it an extra special moment as I stepped up onto the stage!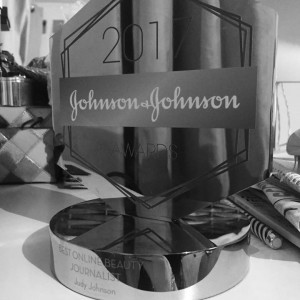 My winning piece was 'Chemo skin, cancer and skincare', and was one of my toughest columns yet; not just because it's a tricky topic in terms of understanding the skincare, but for personal reasons too. I really wanted to do the topic justice and I'm so honoured that out of all my sensitive skin columns last year, this was the one the judges felt was worthy of an award, especially given the fantastic people I was up against (including two of my incredibly talented colleagues).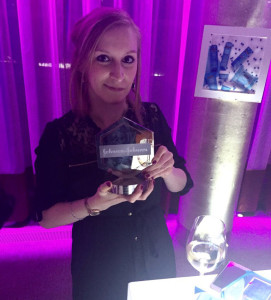 Get The Gloss was also nominated for Best Beauty Team after winning last year, but we passed our crowns over to the Cosmo girls (well deserved it was too!).  Congratulations to all the winners and here's to a very happy start to 2017!
Find out more about my journalism experience and awards on my About page.