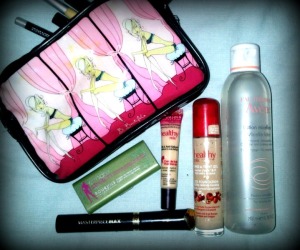 I was trying to decide on my favourite beauty product earlier, and found myself torn between the best mascara in the world and my ultimate moisturiser which I consider a high achiever given that I have incredibly sensitive skin. So for inspiration I stumbled across a post from 2009 on my makeup heroes – the products I just can't live without. It surprised me that a few have changed, so I thought I'd do an update. Well, in a few years time I might need to look back after all…

I still swear by the Urban Decay Primer, Bourjois Stretch Eyeshadow (which I now buy on eBay as it seems to be missing from the counters), 17 Concealer Stick and L'Oreal Khaki eyeshadow – but here are my new makeup bag regulars:

Bourjois Healthy Mix Serum Gel Foundation – This product converted me into a foundation wearer. I only wear it for my 'best' days or evenings out, but this super smooth gel foundation sinks into skin to give a natural glow that doesn't look like thick makeup. The coverage isn't flawless, but I top up with concealer and it's perfect. Check out my full review here.

MaxFactor Masterpiece Max Mascara – I've moved on from False Lash Effect (though I still have it as a back up for extra length) because Masterpiece Max suits my lashes so much better. It gives the same fluttery length as the Falsh Lash Effect but it also adds volume and I find it looks darker or glossier somehow. I can't leave the house without it.

Bourjois Healthy Mix Concealer – Much like the foundation from the same range, this concealer is a face-saver. It's ideal for undereye circles but also covers redness and imperfections too. I find it blends really well, with no dryness (though I do always moisturise beforehand).



Avéne Micellar Lotion – It's no secret that I bloody love the Avéne range. I can't live without their moisturisers and though this isn't makeup you can't have makeup without something to remove it, right? This clear and gentle cleanser is perfect for sensitive skin and leaves it feeling so very soft and clean that it's convinced me to ditch the face wipes (most nights, anyway).

Rimmel Exaggerate Liquid Eyeliner & GOSH Long Lasting Eyeliner Pen – Liquid eyeliners are my weakness when it comes to beauty loyalty. I still love the L'Oreal one but the product runs out far too fast for my liking. The Rimmel liner is incredible for a really glossy, dense black line with precision; it travels with me in my handbag-makeup-bag everywhere I go and is ideal for top ups. The GOSH eyeliner is a dream to apply and lasts a long time (oh look, hence the name) so I'm sold on both.

What makeup products can you not live without? Do you have some that have stood the test of time like I do?